Oily fish and fish oil supplements benefit the health of your lungs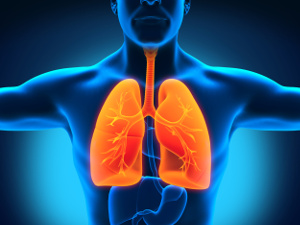 Most chronic pulmonary diseases – including asthma, bronchitis, and COPD (Chronic Obstructive Pulmonary Disease) – are characterized by chronic inflammation that makes both the symptoms and the prognosis worse. Fish and fish oil supplements contain specific omega-3 fatty acids that appear to have an anti-inflammatory effect and may therefore be useful as both prevention and therapy for chronic pulmonary diseases. This was demonstrated in a large American population study that also included Europeans. What the researchers also mention is that people who fail to meet the official guidelines for fish consumption are often at increased risk of developing chronic lung diseases.
There is already a lot of knowledge about how our diets affect the development of cancers and cardiovascular diseases. However, only little is known about how the diet affects pulmonary diseases. A team of scientists from NIH/National Heart, Lung and Blood Institute in Maryland, USA, therefore decided to look into this.
Earlier research has shown that omega-3 fatty acids from oily fish and fish oil supplements are beneficial because of their anti-inflammatory effect, but there are not any large studies that look at the relation between omega-3 intake and the risk of developing pulmonary diseases.
In the new study, the scientists analyzed data from a large American population study (NHLBI) that included more than 15,000 participants with an average age of 56 years. At study start, all participants were generally healthy, and the majority of them did not have chronic lung diseases. All participants were followed for a period of 7-20 years.
As time passed, there were fewer cases of impaired lung capacity and chronic pulmonary diseases among those who had higher levels of omega-3 fatty acids in their blood. The researchers observed the most significant effect with DHA (docosahexaenoic acid), an omega-3 fatty acid that is primarily found in oily fish like salmon, tuna, and sardines. DHA is also available in supplement form.
The scientists then analyzed data from the UK Biobank that includes health information about over 500,000 Europeans. This study also found that having higher levels of omega-3 fatty acids – including DHA – was related to better lung function. This study, however, only included data from healthy people. The scientists are therefore also collaborating with the researchers behind another (ongoing) study (COPDGene) that is investigating whether blood levels of omega-3 fatty acids are related to the impaired lung function that is seen in heavy smokers and people with COPD.
Based on their observations, the scientists can see how important diet is when it comes to pulmonary diseases, and they believe that individually tailored diet recommendations could represent a useful tool for people at particular risk of developing chronic lung diseases.
Although much more research is needed, there seems to be evidence that anti-inflammatory nutrients can be useful for preserving lung health. The new study is published in American Journal of Respiratory and Critical Care Medicine.
Acute inflammation is desirable in connection with infections and cellular damage

If the inflammation is chronic, however, it is harmful and damaging to tissues
The official guidelines for fish consumption and fish oil supplementation
According to the scientists behind the new study, people should adhere to the official recommendations that suggest eating fish at least twice every week. It is important to include oily fish because they have the highest omega-3 content. Most Americans, however, don't stick with the dietary guidelines, however, and it is the same in many European countries. There is also omega-3 in linseed oil, rapeseed oil, walnuts, and chia seeds but in the form of ALA (alpha-linolenic acid) that is converted into omega-3 in the body. Many people have difficulty with this conversion, however. It is therefore better to eat oily fish or to take a high-quality fish oil supplement with the two omega-3 fatty acids, EPA and DHA.
References:
Bonnie K. Patchen et al. Investigating Associations of Omega-3 Fatty Acids, Lung Function Decline, and Airway Obstruction. American Journal of Respiratory and Critical Care Medicine. 2023
NIH/National Heart, Lung and Blood Institute. Omega-3 fatty acids appear promising for maintaining lung health, ScienceDaily. July 20, 2023


Search for more information...