Q10 and alpha-lipoic acid for treating long COVID-19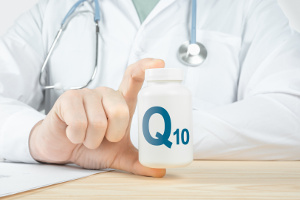 After a COVID-19 infection many people experience chronic symptoms such as fatigue, muscle pain, depression, and sleep disturbances. According to a study that is published in Clinical and Experimental Medicine, supplementing with Q10 and alpha-lipoic acid may help against tiredness and certain other symptoms. The authors describe how Q10 and alpha-lipoic acid support the cellular energy turnover in different ways and serve as antioxidants that protect cells against oxidative stress and cellular damage.
A total of 174 patients aged 18-81 years took part in this study that lasted two months and is published in Clinical and Experimental Medicine. They all suffered from chronic COVID-syndrome. Fifty-two percent of the patients already had other disorders such as pulmonary diseases, type 2 diabetes, mental disorders, and rheumatism. Their chronic fatigue was assessed by means of the so-called Fatigue Severity Scale (FSS). The worse the degree of fatigue and its impact on daily life, the higher the score.
The patients were divided into two groups that were matched with regard to age, gender, BMI, and various other parameters. One group was supplemented with 100 mg of Q10 and 100 mg of alpha-lipoic acid, while the other group (the control group) was given matching placebo.
The active treatment group fared significantly better on the FSS scale than the other group did. More specifically, 53.5 percent of the patients in the supplemented group obtained a reduction in points that exceeded 50 percent. Only 3.5 percent of people in the control group obtained a similar improvement. A drop in fatigue severity points under 20 percent was interpreted as no response. According to the scientists, this is the first study to test the effect of Q10 and alpha-lipoic acid in connection with chronic COVID syndrome.
How do Q10 and alpha-lipoic acid affect energy levels and cellular health?
Q10 is a coenzyme that is essential for the mitochondria's ability to produce ATP in the so-called electron transport chain. In addition, Q10 serves as a powerful antioxidant that protects cells and tissues against damage caused by oxidative stress. The body is able to synthesize most of the Q10 for its own needs. However, it has been shown that levels of the compound drop in the case of acute and chronic disease or as a result of taking cholesterol-lowering medicine (statins). Several studies have shown that supplementation with Q10 can reduce chronic fatigue. In the case of mitochondrial dysfunctions, it is often necessary to take daily doses in the range of 100-500 mg.
Our mitochondria are able to synthesize alpha-lipoic acid, and this compound regulates several processes that are involved in the production of ATP. Moreover, alpha-lipoic acid is an antioxidant that helps the body recycle other antioxidants such as vitamin C and vitamin E. Alpha-lipoic acid even appears to have an anti-viral effect.
According to one study (Sadeghiyan Galeshkalami et al.), the combination of Q10 and alpha-lipoic acid mitigates diabetic neuropathy by regulating oxidative stress and apoptosis (programmed cell death).
The scientists behind the new study report that the two substances also have a positive synergy effect that can reduce fatigue in relation to chronic COVID syndrome. They now call for large, double-blind, placebo-controlled studies that last longer.
We are able to synthesize both Q10 and alpha-lipoic acid

Our endogenous synthesis decreases with increasing age

In some cases, acute and chronic disease can lower our endogenous synthesis of the substances

Q10 and alpha-lipoic acid work synergistically in the energy turnover and as antioxidants, which is why the scientists chose to combine the two compounds
References
Maria Angela Barletta et al. Coenzyme Q10 + alpha lipoic acid for chronic COVID syndrome. Clinical and Experimental Medicine 2022
I-Chen Tsai et al. Effectiveness of Coenzyme Q10 Supplementation for Reducing Fatigue: A Systematic Review and Meta-Analysis of Randomized Controlled Trials. Frontiers in Pharmacology. 2022
Search for more information...