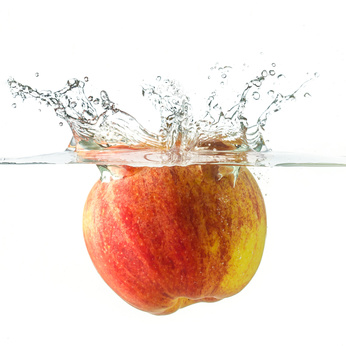 Important note to the reader: The following overview is primarily based on the Nordic Nutrient Recommendations (NNR), which is a set of nutrient guidelines issued as a collaborative effort between the Scandinavian countries. If you compare the NNR to recommendations in the United States, there can be differences with specific nutrients. This overview serves as general information about the different vitamins, minerals, and essential fatty acids and how they work.
For specific recommendations, please refer to those recommendations that apply to the country in which you live.
Vitamins, minerals, omega-3 and omega-6 fatty acids, and Q10 are nutrients that we need in certain quantities in order to support vital body functions.
Recommended daily allowance (RDA) is now called reference intake (RI) levels
Starting December 13th, 2014, the EU introduced new labeling requirements for foods and nutritional supplements. The term "Recommended Daily Allowance" (RDA) has been phased out of the legislation and replaced by "Reference Intake". Because nutritional supplements have long shelf life, there is bound to be products on the market that are still labeled with the old RDA term. The values, however, remain unchanged, so both the RDA and RI level for e.g. calcium is still 800 mg.
Nutritional supplements containing vitamins and minerals must be labeled in accordance with the reference values.
RI (RDA) adults: 11 years of age and older
RI (RDA) children: 1 to 10 years of age
Children under the age of 1 year should only be given nutritional supplements if recommended by a physician, nurse, or health professional.
What do the different values tell us?
Over the years, RDA values have created a lot of confusion. Despite the term "Recommended Daily Allowance", these values, according to the Danish Veterinary and Food Administration, do not represent the recommended amounts of vitamins and minerals needed on a daily basis. In order to avoid any confusion, the name has been replaced with reference intake levels – or RI. These values are established as a way of meeting the average vitamin and mineral requirements of an adult person. What these values do not take into account, however, is the fact that there are large differences between the needs of men and women, younger and older people, thin and overweight individuals, diseased or healthy people, and elite athletes.
Nordic Nutrient Recommendations (NNR)
The Nordic Nutrient Recommendations (NNR) focus on diet and lifestyle and include recommendations for various nutrients. The recommendations generally encourage people to eat a healthy diet, and it is recommended to get more vitamin D and selenium. The aim of these recommendations is to prevent lifestyle diseases such as type 2 diabetes, overweight, cancer, osteoporosis, and cardiovascular disease.
Always choose supplements with documented quality
It pays off to buy high-quality nutritional supplements, which the body can absorb and utilize, and you may even want to go the extra mile and choose products that are scientifically documented. Also, there is the possibility of purchasing high-dosed vitamin and mineral preparations and natural remedies. With such products, high doses are allowed, and they are manufactured under much stricter quality control and must have documentation for their safety and effect.
Vitamin A
(retinol, beta-carotene)
Antioxidant

RDA adults
800 micrograms RE
RDA children
400 micrograms RE
NNR adults
Women 700 RE
Men 900 RE
NNR children
2-5 years 350 RE
6-9 years 400 RE
10-13 years 600 RE
Important for
Eyes
Mucosa
Immune defense
Skin, hair, and nails
Measurement unit for vitamin A:
Vitamin A's active compounds are retinol (from the animal kingdom) and beta-carotene (a vitamin A precursor from the plant kingdom). The total effect of vitamin A is measured as retinol equivalents (RE) according to the Nordic Nutrient Recommendations, the National Academy of Sciences, and the Food and Nutrition Board.
1 retinol equivalent (RE)
= 1 microgram of retinol
=12 micrograms of beta-carotene
=24 other provitamin A carotenoids
Vitamin B1 (thiamin)

RDA adults
1.1 mg
RDA children
0.7 mg
NNR adults
Women 1.1 mg
Men 1.4 mg
NNR children
2-5 years 0.6 mg
6-9 years 0.9 mg
10-13 years - girls/boys 1.0/1.2 mg
Important for
Energy turnover
Nervous system, brain
Heart and cardiovascular system
Muscles
Digestion
RDA adults
1.4 mg
RDA children
0.8 mg
NNR adults
Women 1.3 mg
Men 1.7 mg
NNR children
2-5 years 0.7 mg
6-9 years 1.1 mg
10-13 years – girls/boys 1.2/1.4 mg
Important for
Energy turnover
Nervous system, brain
Iron metabolism, blood
Skin, lips, tongue
Vitamin B3 (niacin)

RDA adults
16 mg
RDA children
9 mg
NNR adults
Women 15 NE
Men 18 NE
NNR children
2-5 years 9 NE
6-9 years 12 NE
10-13 years – girls/boys 14/16 NE
Important for
Energy turnover
Mental balance
Cardiovascular system
Vasodilating effect
Skin and mucosa
Measurement unit for vitamin B3 (niacin)
1 niacin equivalent (NE) = 1 mg niacin or 60 mg tryptophan


Vitamin B5 (pantothenic acid)

RDA adults
6 mg
RDA children
2 mg
NNR adults?

According to the NNR, there is insufficient evidence for a recommendation.

In the United States, 5 mg daily is the recommended daily amount but this may be insufficient.

NNR children?

According to the NNR, there is insufficient evidence for a recommendation

Important for
Energy turnover
Nervous system
Digestion
Steroid hormones (sex hormones and adrenal hormones)
Vitamin B6 (pyridoxin)

RDA adults
1.4 mg
RDA children
0.8 mg
NNR adults
Women 1.2 mg
Men 1.5 mg
NNR children
2-5 years 0.7 mg
6-9 years 1.0 mg
10-13 years – girls/boys – 1.1/1.3 mg
Important for
Energy turnover and stress
Nervous system and mood
Hormone system
Immune system
Antioxidant
Biotin (Vitamin B7, vitamin B8, vitamin H)

RDA adults
50 micrograms
RDA children
8 micrograms
NNR adults?

According to the NNR, there is insufficient evidence for a recommendation, as the human gut microflora also produces the vitamin.

In the United States, the Food and Nutrition Board has set the recommendation at 30 micrograms daily.

NNR children?
According to the NNR, there is insufficient evidence for a recommendation, as the human gut microflora also produces the vitamin
Important for
Energy turnover
Blood sugar
Nervous system and mood
Skin and hair
Mucosa
Folic acid (folate, folacin, vitamin B9)

RDa adults
200 micrograms
RDA children
75 micrograms
NNR adults
Women 300 micrograms
Women of childbearing age 400 micrograms
Men 200 micrograms
NNR children
2-5 years 80 micrograms
6-9 years 130 micrograms
10-13 years 200 micrograms
Important for
Pregnancy and growth
Blood formation
Energy levels and mood
Works in synergy with vitamin B12
RDA adults
2.5 micrograms
RDA children
1 microgram
NNR adults
Women 2 micrograms
Men 2 micrograms
NNR children
2-5 years 0.8 micrograms
6-9 years 1.3 micrograms
10-13 years 2.0 micrograms
Important for
Blood formation
Energy levels
Nervous system and cognitive skills
Infant growth
Immune system
Vitamin C (ascorbic acid)


Antioxidant
RDA adults
80 mg
RDA children
40 mg
NNR adults
Women 75 mg
Men 75 mg
NNR children
2-5 years 30 mg
6-9 years 40 mg
10-13 years 50 mg
Important for
Immune defense
Connective tissue/collagen
Circulation and wound healing
Iron uptake
Stress threshold
Vitamin D (calciferol)


Sunlight is our primary source, but at our latitude, we are only able to produce vitamin D during the summer period.
RDA adults
5 micrograms
RDA children
10 micrograms
NNR girls/women
2-74 years 10 micrograms
Over 75 years 20 micrograms
NNR boys/men
2-74 years 10 micrograms
Over 75 years 20 micrograms
Important for
Bones and teeth
Immune defense and inflammation
Muscles
Cardiovascular system
Brain and mood
The Danish Health Authority recommends a vitamin D supplement
for the following people:
Children aged 0-2 years
Pregnant women
Dark-skinned individuals
People who are veiled during the summer period
People who stay indoors
Nursing home residents
People older than 70 years
Vitamin E (tocoferol)


Antioxidant
RDA adults
12 mg
RDA children
5 mg
NNR adults
Women 8 mg
Men 10 mg
NNR children
2-5 years 5 mg
6-9 years 6 mg
10-13 years – girls/boys - 7/8 mg
Important for
Cellular growth and cellular function
Cardiovascular system
Prevents clotting of blood (coagulation)
Immune defense
Vitamin K (menaquinones)


Vitamin K1 is only found in green plants.
Vitamin K2 is synthesized by our gut bacteria with help from, among other things, vitamin K1
RDA adults
75 micrograms
RDA children
30 micrograms
NNR adults
The amount equals 1 microgram per kilo of body weight
NNR children
The amount equals 1 microgram per kilo of body weight.
Injections are given to neonates to prevent serious bleeding.
Important for
K1: Blood coagulation
K2: Calcium metabolism
Bones
Cardiovascular system
RDA adults
800 mg
RDA children
600 mg
NNR adults
Women and men 800 mg
NNR children

Children
2-5 years 600 mg
6-9 years 700 mg
10-13 years 900 mg

Important for
Growth
Bones and teeth
Muscles and cramps
Heart and blood pressure
Works together with magnesium
Chromium (Cr)

RDA adults
40 micrograms
RDA children
11 micrograms
NNR adults
According to the NNR, there is insufficient evidence for a recommendation
NNR children
According to the NNR, there is insufficient evidence for a recommendation
Important for
Insulin and blood sugar
Sugar cravings
Weight management
Nervous system
Lipid levels in the blood
Pregnancy and fetal growth
Phosphorous (P)

RDA adults
700 mg
RDA children
470 mg
NNR adults
Women and men 600 mg
NNR children
2-5 years 70 mg
6-9 years 540 mg
10-13 years 700 mg
Important for
Energy turnover
Bones and teeth
Muscles
Brain and nervous system
RDA adults
14 mg
RDA children
8 mg
NNR adults
Women (of reproductive age) 15 mg
Women (menopause) 9 mg
Men 9 mg
NNR children
2-5 years 8 mg
6-9 years 9 mg
10-13 years 11 mg
Important for
The hemoglobin of blood
Oxygen transport to all cells
Growth and vitality
Immune defense
Color skin, hair, and nails
Iodine

RDA adults
150 micrograms
RDA children
70 micrograms
NNR adults
Women and men 150 micrograms
NNR children
2-5 years 90 micrograms
6-9 years 150 micrograms
10-13 years 120 micrograms
Important for
Thyroid gland/thyroid hormones
Metabolism
Growth
Energy
Potassium (K)

RDA adults
2,000 mg (= 2 grams)
RDA children
Not established
NNR adults
Women 3.1 grams
Men 3.5 grams
NNR children
2-5 years 1.8 grams
6-9 years 2 grams
10-13 years – girls/boys – 2.9/3.3 grams
Important for
Fluid balance
Muscle and nerve function
Heart rhythm and blood pressure
Counteracts surplus acid
Works together with sodium (salt)
Copper (Cu)

RDA adults
1 mg
RDA children
0.34 mg
NNR adults
Women and men 0.9 mg
NNR children
2-5 years 0.4 mg
6-9 years 0.5 mg
10-13 years 0.7 mg
Important for
Pigmentation of skin and hair
Immune defense
Blood formation
Stress hormones
Nervous system
Magnesium (Mg)

RDA adults
375 mg
RDA children
85 mg
NNR adults
Women 280 mg
Men 350 mg
NNR children
2-5 years 120 mg
6-9 years 200 mg
10-13 years 280 mg
Important for
Bones
Muscles and relaxation
Digestion
Fluid balance
Blood pressure and heart
Works together with calcium
Manganese (Mn)


Antioxidant
RDA adults
2 mg
RDA children
1.2 mg
NNR adults
According to the NNR, there is insufficient evidence for a recommendation
NNR children
According to the NNR, there is insufficient evidence for a recommendation
Important for
Energy turnover
Bones
Connective tissue
Molybdenum (Mo)

RDA adults
50 micrograms
RDA children
17 micrograms
NNR adults
According to the NNR, there is insufficient evidence for a recommendation.
The Food and Nutrition Board of the United States has set the RDA level as 45 micrograms.
NNR children
According to the NNR, there is insufficient evidence for a recommendation
Important for
The metabolism of sulfur-containing amino acids
Uric acid metabolism
Vitamin B12
Sodium (Na) as salt (NaCl)


1 gram of table salt (NaCl) is the same as 0.4 grams of sodium. 1 gram of sodium equals approx. 2.5 grams of table salt (NaCl).
RDA adults
Not established
RDA children
Not established
NNR adults
Pure sodium 2.4 gram
Salt (sodium chloride, NaCl) 6 grams
NNR children
Pure sodium 0,5 gram
Salt (sodium chloride, NaCl) 3-4 grams
Important for
Electrolyte balance with sodium
Fluid and salt balance
Enhancing the secretion of gastric juice
Selenium


Antioxidant
RDA adults
55 micrograms
RDA children
20 micrograms
NNR adults
Women 50 micrograms
Men 60 micrograms
NNR children
2-5 years 25 micrograms
6-9 years 30 micrograms
10-13 years 40 micrograms
Important for
Immune defense
Cardiovascular system
Thyroid gland
Metabolism
Sperm cells
Hair and nails
Cancer prevention as described in the NNR
Sulfur (S)
RI (RDA) adults
Not established
It is assumed that we get sufficient amounts of sulfur
from dietary protein with sulfur-containing amino acids
(cysteine and methionine)
RI (RDA) children
Not established
It is assumed that we get sufficient amounts of sulfur
from dietary protein with sulfur-containing amino acids
(cysteine and methionine)
NNR adults
Not mentioned in NNR
NNR children
Not mentioned in NNR
Important for
Amino acids, proteins, and enzymes
Red blood cells
Cellular oxygen metabolism
Skin, hair, and nails
Tendons, ligaments, and connective tissue
Nervous system
Detoxification
Cobalt (Co)
RI (RDA) adults
Not established
RI (ADT) children
Not established
NNR adults
Not mentioned in NNR
NNR children
Not mentioned in NNR
Important for
Vitamin B12 synthesis
Folic acid synthesis
Blood formation via folic acid and vitamin B12
Zinc (Z)


Antioxidant
RDA adults
10 mg
RDA children
5 mg
NNR adults
Women 7 mg
Men 9 mg
NNR children
2-5 years 6 mg
6-9 years 7 mg
10-13 years - girls/boys - 8/11 mg
Important for
Growth
Fertility
Skin, hair, nails, and bones
Vision, hearing, taste, and appetite
Mental balance
Q10 (ubiquinone, ubiquinol)


Antioxidant
We synthesize our own Q10, but the endogenous production decreases with age.
RDA adults
Not mentioned in the recommendations of the Danish Veterinary and Food Administration
RDA children
Not mentioned in the recommendations of the Danish Veterinary and Food Administration
NNR adults
Not mentioned in the Nordic Nutrient Recommendations
NNR children
Not mentioned in the Nordic Nutrient Recommendations
Important for
Energy turnover
Heart
Cardiovascular system
Immune defense
Omega-3


Essential fatty acid
RDA adults
Not mentioned in the recommendations of the Danish Veterinary and Food Administration, other than being recommended as an important part of the daily diet.
RDA children
Not mentioned in the recommendations of the Danish Veterinary and Food Administration, other than being recommended as an important part of the daily diet.
NNR adults and children
older than 2 years of age
Not mentioned in NNR
The intake of both omega-3 and omega-6 should represent around 5-10% of the total energy supply. Omega-3 fatty acids should ideally account for at least 1%.
At least 200 mg of pregnant and breastfeeding women's omega-3 intake should be in the form of DHA.
NNR children
6-23 months
Not mentioned in NNR
The intake of both omega-3 and omega-6 should represent around 5-10% of the total energy supply. Omega-3 fatty acids should ideally account for at least 1%.
Important for
formation of cell membranes
Brain function
Nervous system
The retina of the eye
Heart and cardiovascular system
Blood pressure
Cholesterol and triglyceride levels
Keeping the skin other soft tissues soft and supple
Immune defense
Inhibition of infection/inflammation
Inhibition of cramps (including menstrual cramps)
Normal development of the fetus' brain

Omega-6


Essential fatty acid
RDA adults
and children older than 2 years
Not mentioned in the recommendations of the Danish Veterinary and Food Administration, other than being recommended as an important part of the daily diet.
RDA children
6-23 months
Not mentioned in the recommendations of the Danish Veterinary and Food Administration, other than being recommended as an important part of the daily diet.
NNR adults and
children older than 2 years of age
Not mentioned in the Nordic Nutrient Recommendations. The intake of both omega-3 and omega-6 should represent around 5-10% of the total energy supply.
NNR children
6-23 months
Important for
Formation of cell membranes
Keeping skin and other soft tissues soft and supple
Infection/inflammation
Cholesterol
Cramps
Cardiovascular system