Children get too little omega-3 and omega-6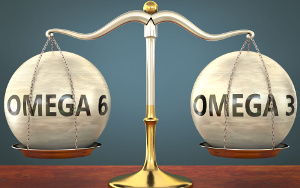 Omega-3 and omega-6 fatty acids are vital for our brain function, nervous system, and immune defense but small children get too little of these two essential fatty acids. According to a Canadian study, this increases their risk of chronic inflammation and chronic diseases. The intake of omega-3 from oily fish and shellfish is particularly limited. For children who dislike seafood, a fish oil supplement is worth considering for the sake of their health and development.
The researchers behind the Canadian study looked at the intake of omega-3 and omega-6 fatty acids among 109 children, all of whom were already enrolled in the Guelph Family Health pilot trial. The children came from a total of 76 different families and were aged 1.5 to 2 years. Their parents were asked to fill in questionnaires about their children's diets. All parents were well educated. Children being breastfed were excluded from the study. Blood samples were taken to evaluate blood levels of omega-3 and omega-6.
To their big surprise, the scientists found that the omega-3 and omega-6 intake was far too low, and the intake of these fatty acids only accounted for 4.1 percent of the total energy intake. Normally it is recommended that 5-10 percent of our energy intake is represented by these two poly-unsaturated fatty acids.
The intake of omega-3 should ideally account for at least one percent of the total energy intake, but it turned out that the omega-3 intake among the children only accounted for half that much (0.5 percent). Moreover, one in four children did not get any of the two omega-3 fatty acids, EPA and DHA, from their diets. They are otherwise particularly important for the brain, the nervous system, and the immune defense. The lack of EPA and DHA was attributed to the fact that the children ate too little fish and seafood or none at all, and this is otherwise the best source of the biologically active omega-3 fatty acids. An earlier study has also shown that the intake of these two fatty acids among children has decreased.
Based on their study, the scientists conclude that the low intake of omega-3 and omega-6 fatty acids among children can increase their risk of chronic inflammation and chronic disease over time. The Canadian study is published in Applied Physiology, Nutrition and Metabolism.
How can children get enough omega-3 and omega-6?
You can get the recommended amount of omega-3 by eating fish several times a week as advised by the dietary guidelines. Oily fish such as herring, mackerel, trout, and sardines are especially rich in EPA and DHA, and the omega-3 content is higher in wild salmon and salmon from the Faroe Islands compared with farmed salmon. Other useful sources are plaice, cod, pollock, lemon sole, flounder, haddock, common dab, shellfish, and fish roe.
Children who dislike the taste of fish or simply don't eat enough of it can take a high-quality fish oil supplement, instead.
There is also omega-3 in the form of ALA (alpha-linolenic acid) in linseed oil, rapeseed oil, walnuts, and chia seeds, but many people have difficulty with converting ALA into the two active forms, EPA and DHA. Good sources of omega-6 are nuts, kernels, seeds, oats, and high-quality vegetable oils. Beware that overheating destroys the nutritional value.
Reference:
Jessie L Burns et al. Intakes of PUFA are low in preschool-aged children in the Guelph Family Health Study pilot cohort. Appl. Physiol. Nutr. Metab. 2022.
Anbefalinger fra myndigheder om mad og vitaminer til børn (sundhedsplejersken.dk)
Frida - Database med fødevaredata udgivet DTU Fødevareinstituttet (fooddata.dk)
Search for more information...