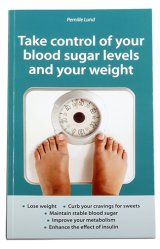 By Pernille Lund
ISBN 87 7776 150 2
År 2014
Page 52
PRICE: € 5.99
---
---

Stable blood sugar is of vital importance to our energy metabolism and our general health and well-being.
An increasing number of studies show that chromium is necessary in order for the hormone insulin to regulate the uptake of sugar (glucose) in our cells.
If a person is chromium deficient there is a corresponding risk that blood sugar levels will fluctuate. With time, unstable blood sugar may turn into metabolic syndrome, an early stage of diabetes with several symptoms.
Both metabolic syndrome and diabetes are spreading with epidemic proportions.
This book describes chromium's role in regulating blood sugar levels. The book even features tables, check lists, and good advice on how to maintain stable blood sugar levels.