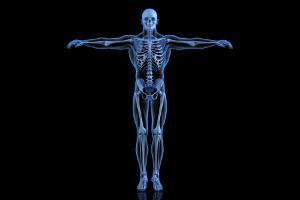 Bone fractures can be fatal, especially in old age where hip fractures typically result in hospitalization and early death. According to a study from Edith Cowan University in Australia, increased intake of vitamin K1 from foods like spinach, cabbage, and other vegetables lowers the risk of bone fractures later in life. Vitamin K1's positive effect on bone health is linked to the fact that K1 is converted into vitamin K2 in the intestine, and vitamin K2-dependent proteins clear calcium from the bloodstream and embed the mineral in bone tissue.
In the Edith Cowan University study that was conducted in collaboration with Western University, Australia, the scientists looked closer at the relation between hospitalization due to bone fractures and the participants' dietary intake of vitamin K1. The study included a total of 1,400 older Australian women living at home and covered a period of 14 years. The women were already participating in the Perth Longitudinal Study of Aging Women, which is a large population study. The study showed that the women who consumed more than 100 micrograms of dietary vitamin K1 daily – which amounts to eating 125 grams of dark leafy greens or 1-2 servings of other vegetables – had a 31 percent lower risk of sustaining a bone fracture compared with the women who consumed less than 60 micrograms of vitamin K1 daily.
The official recommendations for vitamin K1 in Australia are 60 micrograms per day for women. According to the study, however, it looked as if an even larger intake gives additional protection against bone fractures. More specifically, the risk of sustaining a fractured hip and being hospitalized was 49 percent lower among women with the highest dietary intake of vitamin K1 (they got around twice as much as the recommended intake).
According to the researchers, the study results are independent of other risk factors for bone fractures such as BMI, calcium intake, vitamin D status, and other diseases.
How does vitamin K1 affect bones?
Vitamin K1 is mainly found in dark leafy greens and is primarily known for its role in blood coagulation. In addition, vitamin K1 is converted into vitamin K2 by bacteria in the gut. Vitamin K2 plays a major role in bone health by activating the two proteins, matrix GLA (MGP) and osteocalcin. This is important for clearing calcium from the blood and embedding the mineral in bone tissue. Osteocalcin is believed to improve bone mineral density and bone strength.
How to get enough vitamin K1
According to Dr. Marc Sim, who headed the new study, it is optimal if you get 100 micrograms of vitamin K1 daily, which is relatively easy to accomplish. You can get that amount of vitamin K1 by eating 75-150 grams of dark leafy greens like spinach, broccoli, or cabbage. Green beans, avocado, prunes, and kiwi fruit are also good sources of vitamin K1. Leafy greens are rich in magnesium that is also good for your bone health.
Beware that some medical drugs inhibit your utilization of vitamin K1
Prolonged use of drugs such as antibiotics, antacids, acetylsalicylic acid, cholesterol-lowering medicine, and blood thinners (warfarin) may cause a problem as they are vitamin K antagonists.
Bones are in particular need of:
Calcium, magnesium, vitamin D, and vitamin K – plus weight bearing exercise
References:
March Sim et al. Dietary Vitamin K1 intake is associated with lower long-term fracture-related hospitalization risk: the Perth longitudinal study of ageing women. Food & Function, 2022;
Edith Cowan University. Higher vitamin K intake linked to lower bone fracture risk later in life. ScienceDaily. November 28, 2022
Nutrition insight. Role of Vitamin K in Bone Health Underlined in New Study. Jun 2017
Search for more information...